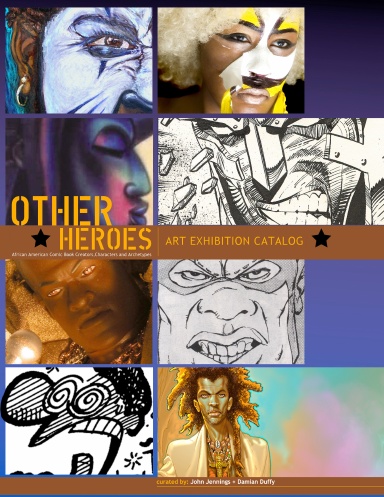 OTHER HEROES: African American Comic Book Creators and Characters
JSU Gallery, Dollye M.E. Robinson School of Liberal Arts Building
Jackson State University
April 5-April 25, 2007
A showcase of the work of talented African American comics artists, a consideration of African American characters in comics, and a meditation on racial representation in sequential art, Other Heroes is an exhibition about the idea of race as presented in and through comics featuring both sequential art and non sequential art inspired by the archetypes of blackness in the medium.
OUT OF SEQUENCE: Underrepresented Voices in American Comics
Krannert Art Museum, University of Illinois at Urbana-Champaign
October 24, 2008-January 31, 2009
The Laboratory of Art and Ideas at Belmar (The Lab), Belmar, CO
January 28 to April 26, 2009

Thorne-Sagendorph Art Gallery,
Keene State College, Keene, NH
October 23 to December 6, 2009
By focusing on work by women and minority artists, experimental and small press comic creators, webcomics creators, and the contributions of comic book writers, inkers, colorists, and letterers, Out of Sequence seeks to explore alternate histories of American comics and explicate the limitless possibilities for the medium in the 21st century; from early newspaper comic strips to the internet to virtual narratives in simulated three dimensional space.
Full exhibition information

Checklist of included works